NEW for 2017 is the Pro Grade Cuff, which is a upgrade on the Competition Grade Cuff.
Both versions have an aluminium strap that wraps around the front part of your forearm, that allows you to have a more consistent position for the triangle ring to engage your sling as well as providing a more consistent pull from the sling. The Pro Grade has a different attachment point from the traditional triangle ring, it is smaller and rigid.

Another benefit of this cuff is that the aluminum also limits your heartbeat from transferred to the rifle through the sling.
Competition Grade is only available with hook and loop fasteners and the Pro Grade is available in either hook and loop or a buckle.

Our standard cuffs come in two different styles, both of which comply with current IBU regulations/rules. The first is the most common, using hook and loop to secure it on your arm. The other style utilizes two D rings (like on a motorcycle helmet) to secure it. Both are made with metal hardware to last for years and have a standing hook ring on all cuffs.

All cuffs have a treatment applied to the back side of the cuff to assist it in staying in place once you have it properly positioned.

At this time we currently offer the colors listed below with your choice of Nickel Plated (silver), Brass (gold) or Black hardware.

Cuff Colors: Baby Blue, Black, Blue, Burgundy, Dusty Rose/Pink, Forest Green, Hot Pink, Navy Blue, Neon Green, Orange, Purple, Red, White or Yellow.

Not all colors have matching hook and loop fasteners, in the event that we do not have the color of hook and loop we will use white.
If you would like your hook and loop to be contrasting with the cuff, just let us know.
These are custom made to order, so let us make exactly what you want.

We will custom make the cuff to fit your arm, please enter in your arm circumference in the comment box on the order page.

Or if you prefer, we also offer four standard cuff sizes:

Small (10"-12"/25cm-30cm) Medium (12"-14"/30cm-35cm) Large (14"-16"/35cm-40cm) X-Large (16"-18"/40cm-46cm)


We stand behind our products and offer a lifetime warranty, if they fail due to manufacturing defect, we will replace, repair or refund your money.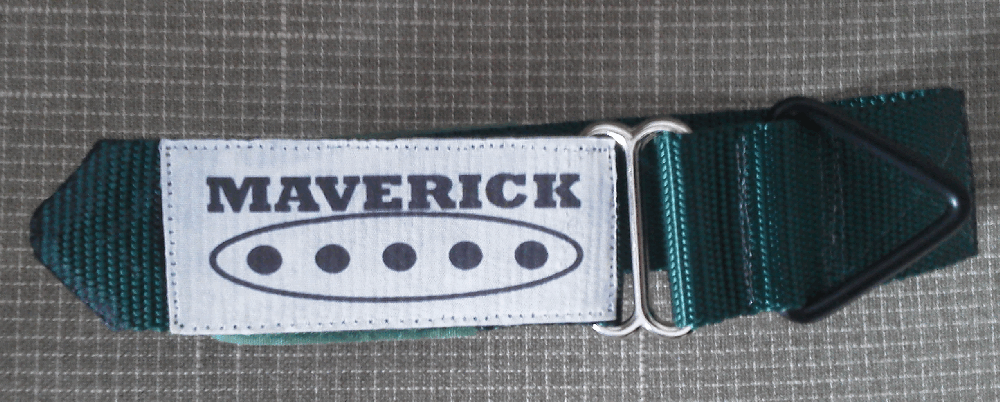 Hook & Loop Forest Green with Nickel & Black Hardware
D Ring Neon Green with Nickel & Black Hardware
Thank you for choosing Maverick Biathlon Products

Copyright (C) 2013-2018, Maverick Biathlon Products, All Rights Reserved


D Ring Yellow with Brass Hardware
Top-Orange; Middle-Pair of Baby Blue; Bottom-Red and Neon Green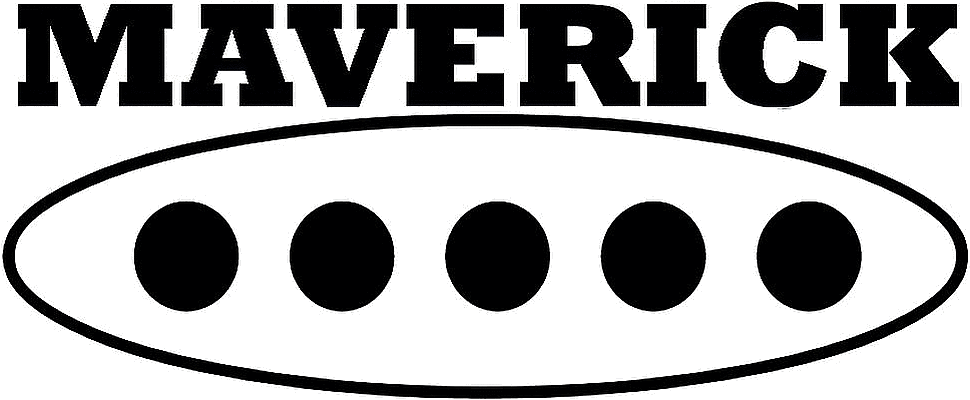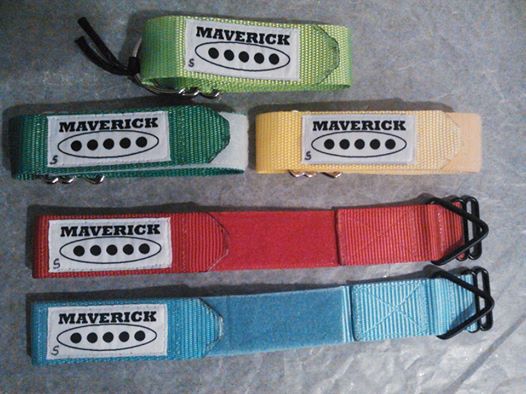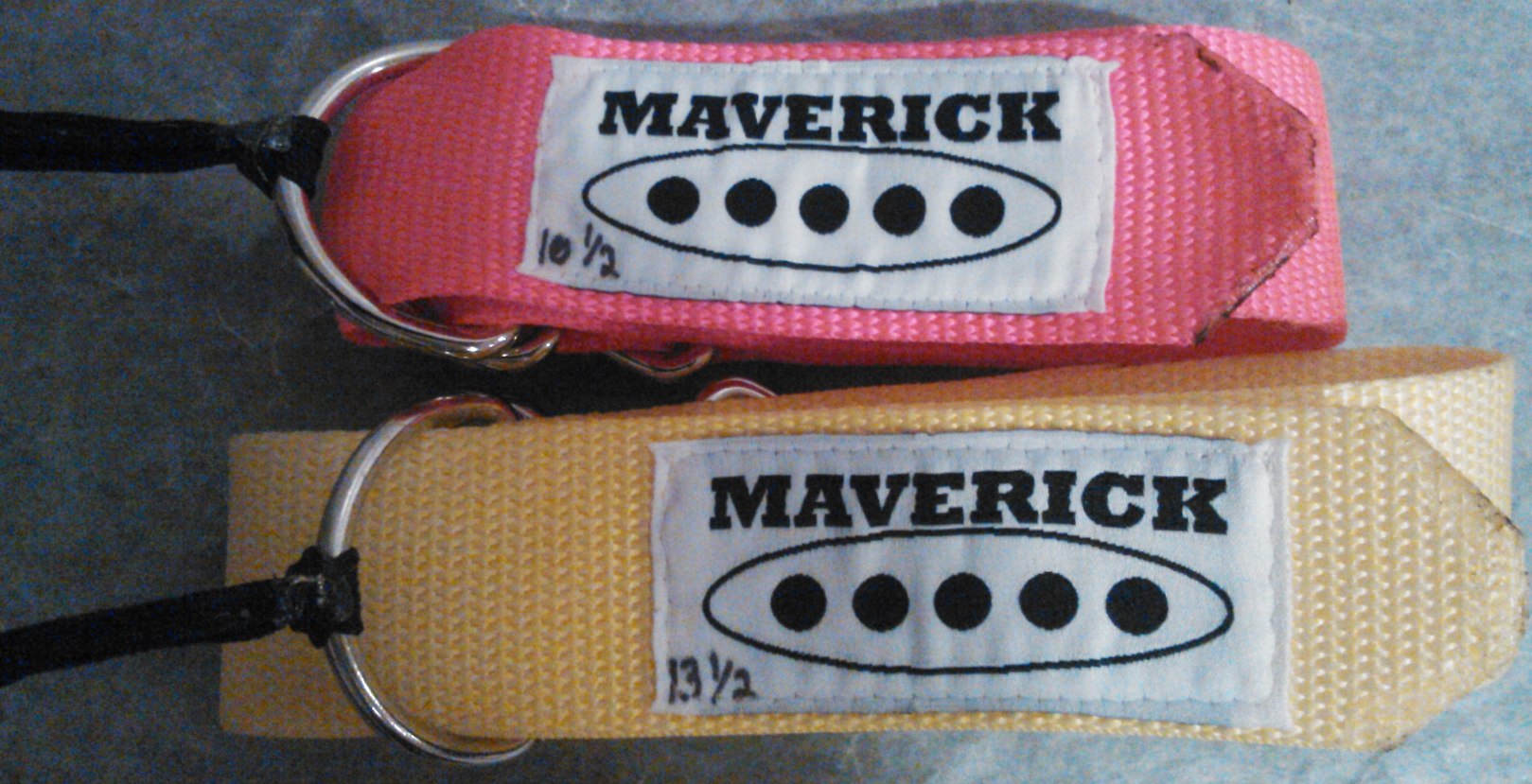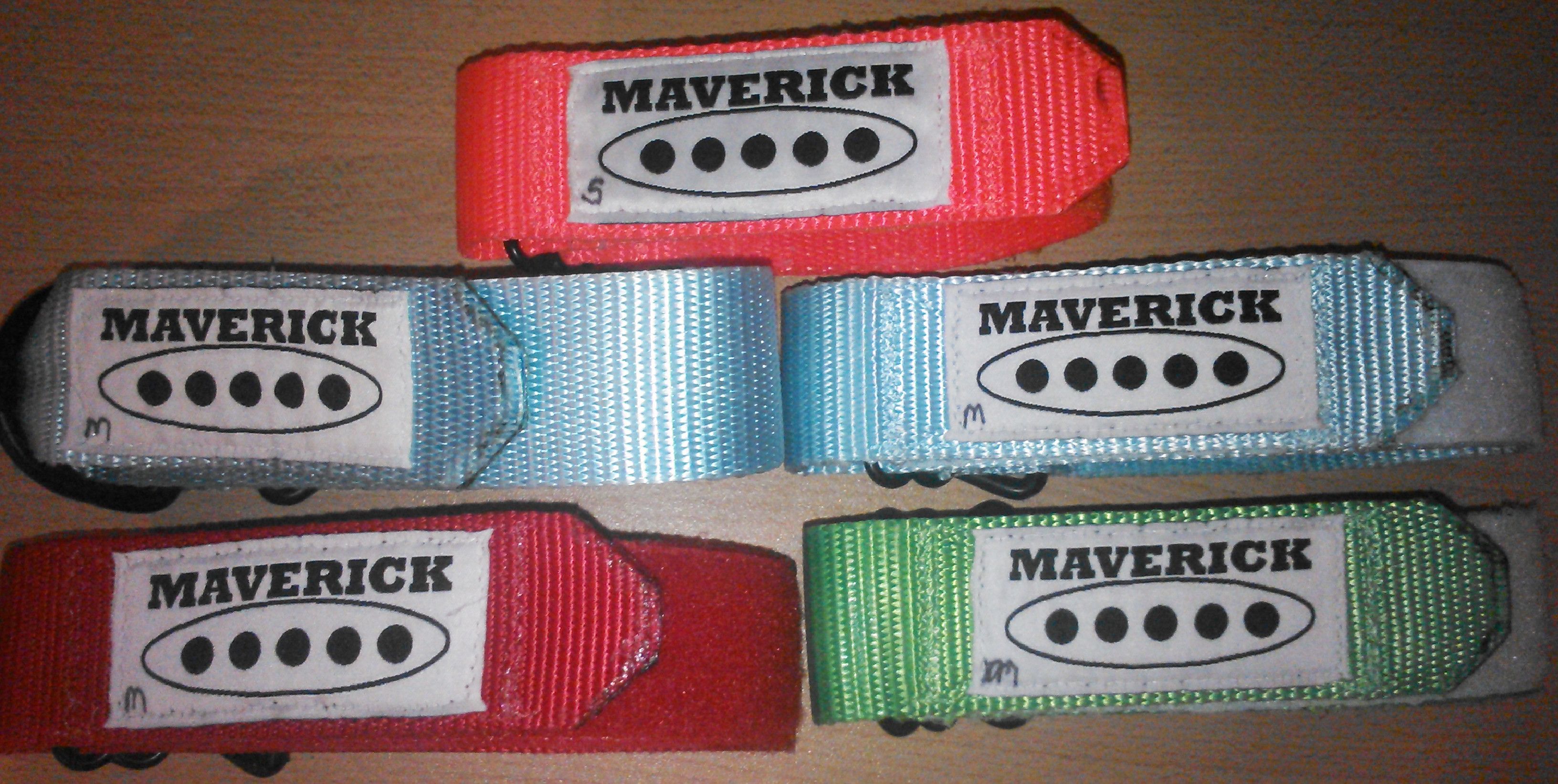 Review of the Maverick Biathlon Standard Shooting Cuff by Tom Grenier, he is the Program Coordinator for the Nordic Skiing Association of Anchorage's Eagle Eyes Biathlon Program, an all-ages Biathlon instruction and race preparation program based out of the biathlon range in Anchorage's Kincaid Park

"Prone cuffs in biathlon have a fairly simple job yet important job. That is, while being reasonably comfortable, to stay in place on the athlete's arm during the skiing phases of a biathlon competition and to provide a easily accessed point to attach the hook of the rifle's prone sling while remaining in place during the prone stages of biathlon competitions. A variety of prone cuffs can be found on the market with the primary styles being simple sewn web units with hook and loop attachments and Fastex triangle rings, more engineered web units with internal bendable metal supports, and the top of the line riveted leather styles with rigid metal loops affixed to stand perpendicular from the cuff face for the quickest possible hookup to the rifle and metal buckle for quick and precise adjustment.

For years my club had stocked the Meyer style cuff for our local shooters but needed a more cost effective option as our youth program grew. The Meyer cuff is a high quality, material intensive, unit and priced accordingly. I've used one of the Meyer cuffs for several years and adjusted it to the designer's instructions that can be found on the Altius Custom Firearms website. Properly adjusted, I've found it to provide a perfect fit and, especially after I shimmed the catch loop to make the Fastex ring stand up almost full time, to provide as fast a hook up to the rifle as a top of the line cuff. The materials and assembly costs make the Meyer cuff reasonably pricey. This makes it a bit too expensive for an age group known for outgrowing equipment if they don't entirely lose it first. At $15 dollars, the same price as other entry level biathlon prone cuffs, the Maverick cuff has several attractive options and design features.

I occasionally set aside my cut to fit Meyer cuff in size large for a yellow hook and loop Maverick in medium. I've found that set at it's largest possible circumference the Maverick has a perfectly comfortable fit with no extra "tail" and makes the Meyer cuff feel heavy in comparison. I was surprised to find how little I missed the metal reinforcement in the Meyer cuff but plan on using both cuffs at high heart rate this summer to see to what degree the arterial relief the Meyer cuff is noticeable. The Maverick cuff uses a sewn in metal triangle ring that was quick to stand up with a finger grab when hooking in. I found its minimal bulk and simplicity of construction made it very comfortable to shoot and ski with.

The Maverick cuff has a few design features that make it stand out from other products in its price range. The most visible is the wide variety of bright colors the cuff is available in. The color options are particularly desirable for clubs looking for entry level cuffs for juvenile and junior competitors as the bright colors make it easy to tell one kid's cuff from another and make the cuffs easier to find after they vanish under beds and in black hole-like gear bags. Choosing colors is also fun for kids and lends individuality to the activity. More importantly, the inside of each cuff is coated with a tacky adhesive surface that seems reasonably durable and greatly helps the cuff stay in place with no more tension than is necessary. This feature along with the optional D ring fastening system make the cuff functional beyond its price range.

The crowning glory for the Maverick cuff would be the addition of a standing hook ring to aid in high-speed hook ups to the rifle. Beyond that, the Maverick Prone Cuff is a fine value as it is a great choice for entry level to intermediate biathletes and clubs looking for high volume entry level purchases. Athletes who strike a good fit with one of these cuffs may find little reason to switch to anything else."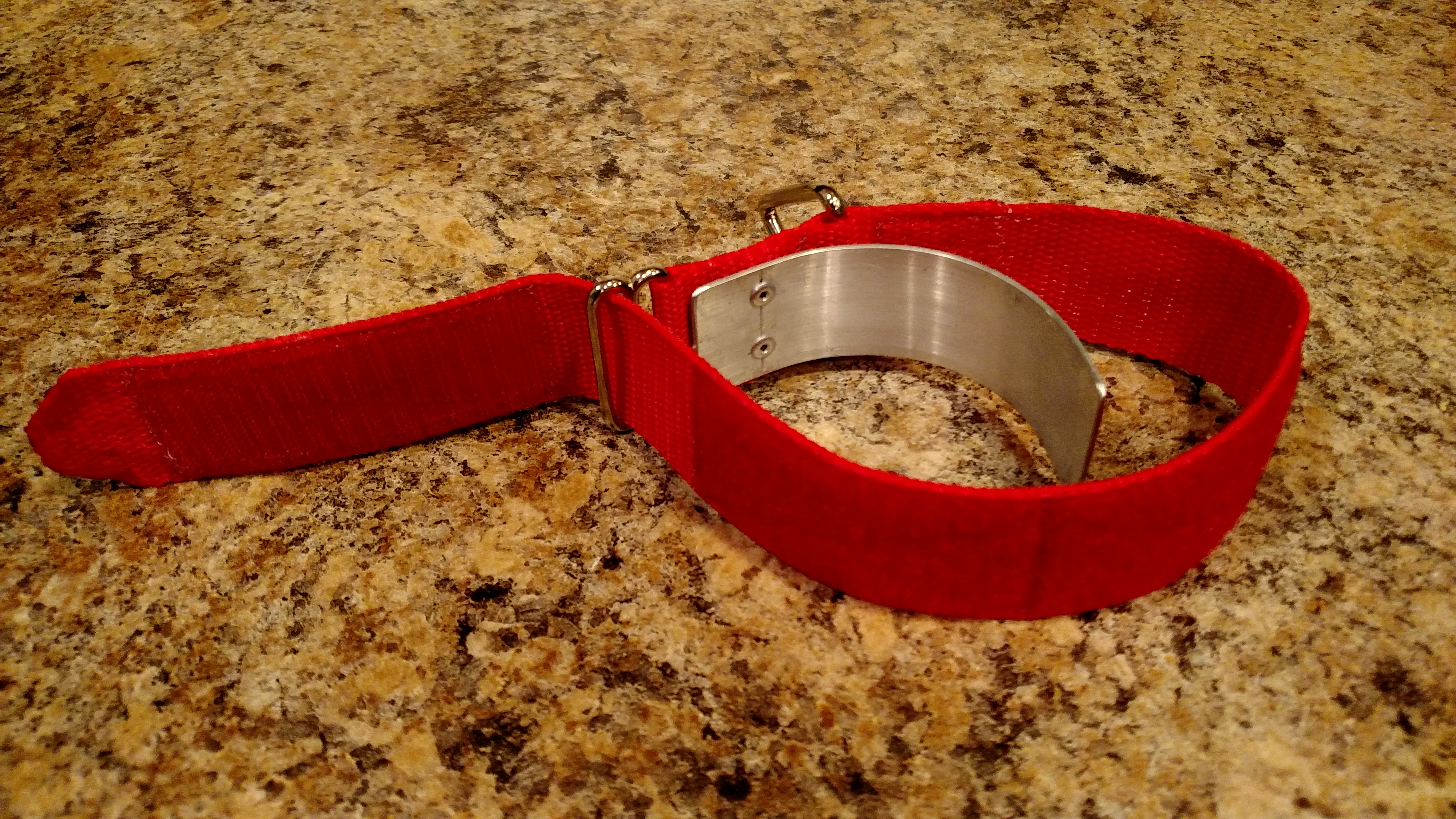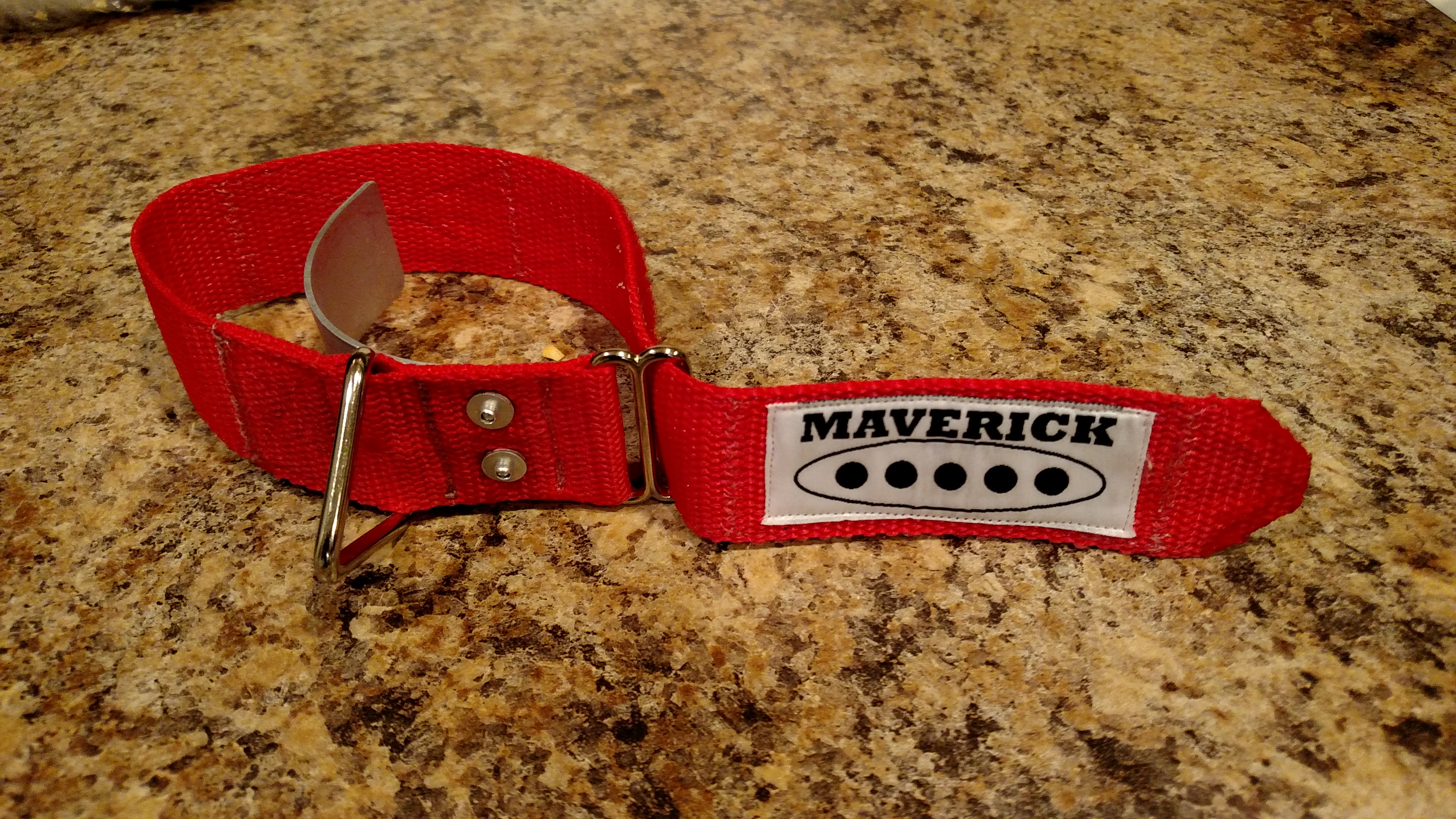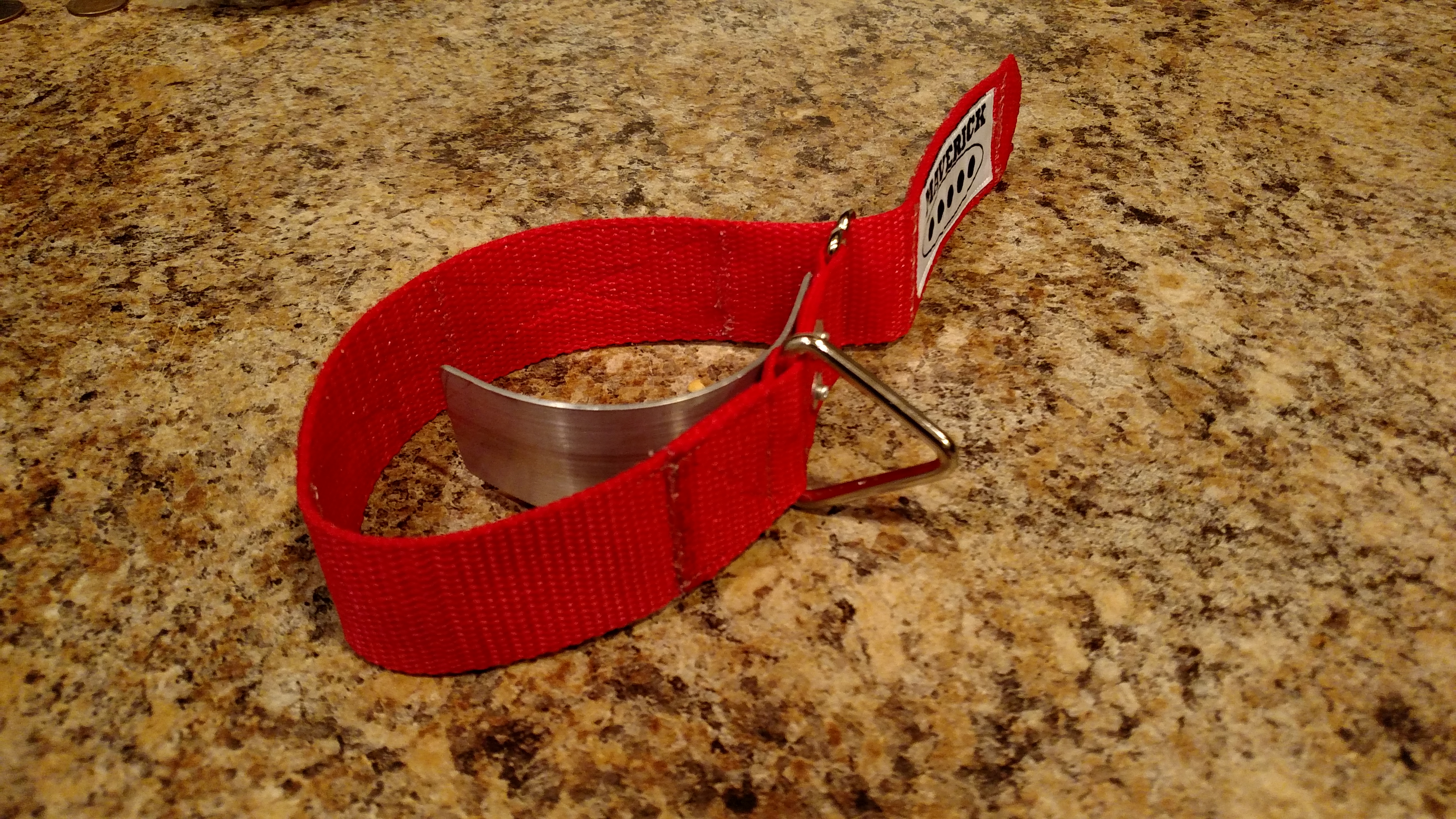 Competition Grade
Red with Nickel Hardware